Watch the event live on Facebook 
Mahalo to the Hawaii Tourism Authority for their generous sponsorship of May Day Waikiki!!
ABOUT MAY DAY WAIKĪKĪ
The Waikīkī Beachboys were known as the unofficial "Ambassadors of Aloha" and are attributed with exposing a global audience to the Hawaiian sports of surfing and canoe paddling. It was these jovial and expert watermen who helped to also shape the early tourism landscape and economy in Hawaii.
Four years ago, May Day Waikiki was created as a way to celebrate the Waikiki Beachboys and their stewardship of the beach and their perpetuation of Hawaiian watersports. The Beachboys regarded Waikiki as their home, and an extension of themselves; therefore, upon their passing, many Beachboys have requested to have their ashes scattered in the surf of Waikiki. We, as a community, come together once a year on May Day, to honor and pay respect to those great watermen who now reside beyond the reef.
Please join us on Monday, May 1, 2017 for the 4th Annual "May Day Waikiki: Beachboys, Memories & Music". This wonderful event, presented by the Hawaii Tourism Authority, pays tribute to the Waikīkī Beachboys and brings together visitors and locals alike for a music-filled afternoon of celebration and reflection.
---
HONOREES
Each year, the Hawaii Tourism Authority recognizes Waikīkī Beach Boys, past and present, whom have made significant contributions in the tourism industry, either thru their conservancy of the beach, their display of exceptional water-skills in surfing, canoe paddling and/or catamaran handling, or thru their stewardship of the Beach Boy culture. This year, we are honored to recognize the following Waikīkī Beach Boys:
BLUE MAKUA SR
BLUE MAKUA JR
VI MAKUA
KIMO MAKUA
JOHN MAKUA
WILLIAM MOKU KAMAKA
Past honorees have included: Teddy Bush (2014), Alex Apo (2015), Richard "Chief" Kauo (2015), Albert "Rabbit" Kekai (2016), Edward "Blackout" Whaley (2016), George Downing (2016), Harry S. Robello (2016), James Lord "Tally Ho" Blears (2016) and Richard "Buffalo" Keaulana (2016).
---
SCHEDULE OF EVENTS
Monday – May 1 – 2017
10:00am-12:00pm: FREE Canoe Rides at Waikiki Beach Services (WBS). Come down to Waikīkī and experience the thrill of riding waves on an outrigger canoe!
Canoe rides are all first come, first serve and will go out as soon as there are 4 paddlers ready to go.
All participants will need to sign a waiver form prior to riding the canoe.
Kids 3+ are able to ride the canoe, please bring your own child life jacket. Life jackets for teens and adults are on site if needed.
Photos of your canoe ride can be purchased for a fee.
Additional infö on the canoe can be found on the WBS FAQs page.
2:00pm-2:30pm: Hula Show by Ka Hale I o Kahala Halau Hula
2:30pm-3:00pm: Entertainment & Music
3:00pm-3:30pm: May Day Waikīkī Ceremony.
Welcome by HTA and the Mayorʻs Office.
Recognition of the 2016 honorees.
Waikīkī Beach Boy Memorial – roll call of Beach Boys who have passed on and who have been laid to rest in Waikīkī. Flower drop & water canon display.
3:30pm-4:30pm: Entertainment & Music by Henry Kapono and Special Guests
4:45pm: Pau. After Party at Dukes Waikīkī!
---
THE MEMORIAL WALL
No headstone mark their graves for the public to read of their feats; no place marks their resting place for their families to pay respects…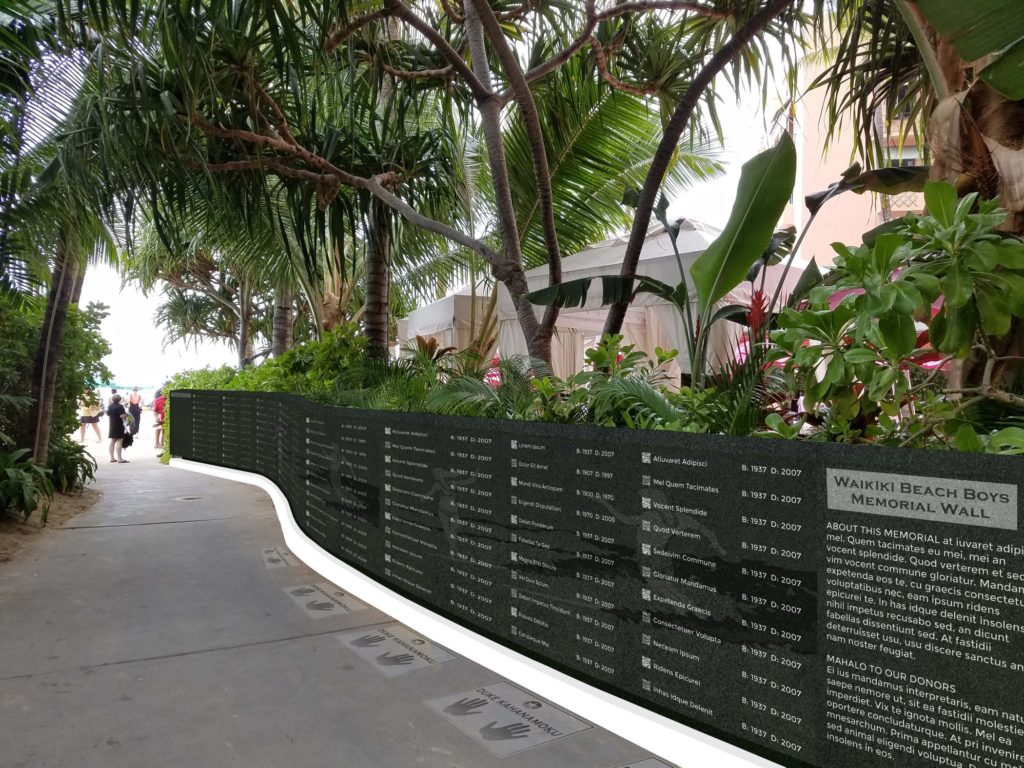 It is our vision to construct a "Memorial Wall" to display and commemorate the names of the men and women who have passed away and who have gone "beyond the reef."  We would like to give the families a place where they can come to pay respects to their loved ones, where currently there is none. We are in the process of raising funds needed to create this wall.
Our vision:
-The walkway will feature the names of prominent men and women who have contributed greatly to the success of Waikiki and who have been laid to rest in the waters of Waikiki.
-Sections of the wall will be reserved for the Waikiki Beachboys/Beachgirls who have been laid to rest in Waikiki. QR codes will be included after each name so that family members can write and update biographies of their loved ones.
-Sections of the wall will be reserved for those whose ashes have been scattered in burial-at-sea services with Waikiki Beach Services. QR codes will also be included with each name so that a biography of the individual can be input.
IN KIND DONATIONS
Have a skill or item to donate? In kind donations are also accepted and appreciated! Please contact info@waikikibeachservices.com
HOW TO DONATE
Coming soon…
---
FAQs
Location and Event Details
Date: Monday May 1, 2017
Where: On the beach, fronting the Royal Hawaiian: A Luxury Collection Resort
Public Access:
The Royal Hawaiian areas are reserved exclusively for guests of the resort; however, access to the beach fronting the resort can be made thru the public beach access located off Kalakaua Avenue between the Royal Hawaiian Hotel and the Outrigger Waikiki on the Beach.
Parking
Sheraton Waikiki's self-park garage will be open to the public, and normal parking rates will apply. Parking is free for registered guests of the Sheraton Waikiki or Royal Hawaiian Hotel.
The current rate for the public is $2 for the first 20 min and $4.50 for each additional hour, maximum 40 hours. Parking validation can obtained with purchases made at one of the restaurants or bars on property.
Misc. Parking Garages: Other parking garages within 5 minute walking distance to the May Day Waikiki Event:
Royal Hawaiian Shopping Center Parking Garage: http://www.royalhawaiiancenter.com/directions
Waikiki Trade Center
2255 Kuhio Ave, Honolulu, HI 96815
Early Bird Special (6 a.m.-9 a.m.) $6 flat rate, good until 5 p.m.
Waikiki Parking Garage
http://propark.org/waikiki-parking-garage/
This website can also provide other parking options to check out. http://en.parkopedia.com/parking/2259_kalakaua_avenue_honolulu_hi_96815/
There is also metered parking down by Kapiolani Park, which is about a 10-15 min walk to our location.
Roll-Call
During the event, a roll-call will be conducted, consisting of all the names of Waikiki Beach Boys whom have passed away and been buried in the waters off Waikiki. If you have a name or a Waikiki Beach Boy recently deceased, or not included in the current roll-call, please contact Kalaimoku Group. To be included on the roll-call, the individual must have worked as a Waikiki Beach Boy and must have been laid to rest in Waikiki.
Bathrooms
Public restrooms will be available down the public access way, behind the Cheesecake Factory.
Listen Live!
Can't make it down to celebrate in person? Listen live, on Hawaiian 105KINE.
---
CONTACT
For marketing and press release information, please contact:
Mona Wood
ikaikacomm@gmail.com
For information regarding canoe rides on May 1, to propose a name to add to the annual Beach Boy roll call, or to donate towards the Memorial Wall, please contact:
Waikiki Beach Services
info@waikikibeachservices.com
For information regarding the event production, please contact:
The Kālaimoku Group
1110 University Ave, Suite 309
Honolulu, Hawaii 96826
Phone/Fax: (808) 888-6834
info@kalaimoku.com